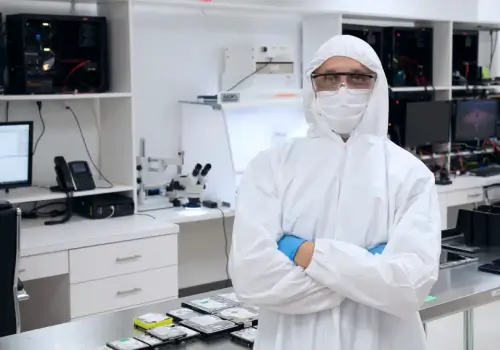 LA EMPRESA DE RECUPERACIÓN DE DATOS
Secure Data Recovery es la autoridad confiable de recuperación de RAID, SSD y disco duro a nivel nacional recomendada desde 2007. Nuestro proceso auditor de seguridad SSAE 18 SOC 1, 2 y 3 y los servicios de recuperación de datos han guardado archivos importantes de más de 100,000 dispositivos de almacenamiento fallidos con un 96 % documentado tasa de éxito. Si perdió datos y necesita servicios profesionales de recuperación de datos, háganos su primera llamada para resolver su problema de pérdida de datos.
Estamos listos para brindarle una solución de recuperación de datos con una garantía de "Sin datos, sin cargo por recuperación" , en cualquier lugar y en cualquier momento.
Recovery Services We Offer
Hard Drive
Recovery
Our team has successfully recovered data from tens of thousands of hard drives, hard disk or HDD of all shapes, sizes, file systems and physical damage with a 96% success rate. We are ready to recover yours.
Laptop
Data Recovery
Lost data on your mobile workstation? Let our data recovery experts get it back. We have recovered data from all laptop brands, operating systems, and failure scenarios.
Mac
Data Recovery
Guaranteed results for all iMac & MacBooks by Apple certified technicians and cutting-edge utilities designed to produce the highest success rates on HFS+/APFS and other Mac file systems.
Raid
Data Recovery
We are the industry leader specializing in business-critical data recovery from thousands of home user, SMB, and enterprise storage units across the world.
Server
Data Recovery
When sudden data loss causes to your production environment to come to a halt you need specialists who have dealt with your problem before to limit the downtime. Call us for immediate assistance.
SSD
Recovery
We have a different approach. Our flash recovery engineers develop in-house, proprietary tools that help us deliver the highest success rates in the industry on failed flash-based drives.
iPhone
Data Recovery
Get your memories back now, with our help. Don't wait. Water damaged iPhones need to be properly addressed right away to reduce the risk of permanent data loss. Call us to get started.
Desktop
Data Recovery
Blue screen of death got you panicked? Don't stress. Turn off your computer and call the professionals. We will exhaust all options to perform data retrieval on your disk drive to get your data back.
View All Services
Our teams are fully equipped to recover data from any hard drive regardless of size, operating system, brand, or failure scenario.
Secure Data Recovery Process
1
Free
Consultation
Power down the device and call us, 24x7 for a free consultation and quote.
2
Free Professional Diagnostics
Submit your device at one of our locations for a non-destructive evaluation by a data recovery expert.
3
Review &
Decide
Review the diagnostic results and approve the work order at a set price, payable upon success with our "No Data, No Recovery Fee Guarantee".
4
Data Recovery & Return
Submit payment and receive your recovered data on a new external drive.
Sobre Nosotros
Secure Data Recovery Services se inició en 2007 con una sola ubicación y durante la última década se convirtió en una de las empresas de recuperación de datos más grandes del mundo que ayuda a los clientes a recuperar datos con capacidades extraordinarias. El motor del éxito detrás de nuestros servicios de clase mundial son los talentosos equipos de ingenieros que desarrollan nuestras herramientas y procedimientos de última generación que nos permiten recuperar datos de las circunstancias de pérdida de datos más desafiantes.

Nuestro equipo es realmente apasionado por el almacenamiento de datos y se enorgullece de la satisfacción del cliente que proviene de reunir a los usuarios con sus datos perdidos. Nuestro objetivo es ofrecer los mejores resultados tecnológicamente posibles al mismo tiempo que mantenemos los controles de seguridad más estrictos a través de nuestras numerosas certificaciones de seguridad específicas de la industria, incluyendo auditorías regulares de SSAE18 SOC 1, 2 y 3.
Secure Data Recovery Services ha construido una sólida reputación como el proveedor de recuperación de datos más confiable, con un proceso completamente transparente y certificado que demuestra que nuestras instalaciones, procesos y personal superan los estándares de la industria.
Desde discos duros externos individuales, SSD, dispositivos móviles hasta fallas en sistemas empresariales NAS, SAN y RAID, estamos listos para ayudar a recuperarse de desastres digitales, en cualquier lugar.